| | | |
| --- | --- | --- |
| | | 1936 COLLIER TROPHY |

On August 6, 1936, Pan American Airways President Jaun Trippe flew to Washington, D.C. to shake hands with President Franklin D. Roosevelt and to receive the massive Collier Trophy. Pan American Airways acquired U.S. avaition's highest award for the "establishment of the trans-Pacific airplane and the successful execution of extended overwater navigation in the regular operation thereof.



In practical terms that meant that within the previous year, the four Pan Am Pacific Clippers completed 70 round trips between San Francisco and Manila, flew 6,000,000 passenger miles without an accident, or even a cancelled flight.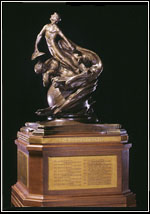 The Collier Trophy was established in 1911 by Robert J. Collier, early President of the Aero Club of America. The trophy is administered by the National Aeronautic Association of the U.S.A. and is awarded annually for "the greatest achievement in aeronautics or astronautics in America, with respect to improving the performance, efficiency, and safety of air or space vehicles, the value of which has been thoroughly demonstrated by actual use during the preceding year."



The National Aeronautic Association's Collier Trophy is named for Robert J. Collier. In addition to an aviator, humanitarian, and sportsman, Mr. Collier was a prominent publisher whose family created the popular Colliers Weekly. In recognizing the worth and future of aviation, Mr. Collier proclaimed the ideal that, "The flying machine should be unselfishly and rapidly developed to its ultimate potential for America's economic advancement." Collier was the first person to purchase an airplane from the Wright brothers for personal use. Robert J. Collier died in 1918 after completing his military service in World War I.



In 1911, the very first recipient of the NAA's Collier Trophy was Glenn H. Curtiss for his achievements in the development of the hydro-aeroplane. Other names include Orville Wright, Elmer Sperry, Lawrence Bell and Chuck Yeager, Neil Armstrong and "Buzz" Aldrin, and Jeana Yeager and Burt Rutan to name just a few of the individuals.




---



Copyright © 1999-2002 Flying Clippers All Rights Reserved
All materials contained in http://www.flyingclippers.com are protected by copyright and trademark laws and may not be used for any purpose whatsoever other than private, non-commercial viewing purposes. Derivative works and other unauthorized copying or use of stills, video footage, text or graphics is expressly prohibited.