DO YOU REMEMBER?
---
We invite you to
share your memories
for an upcoming section to this site filled with the stories of those who flew on, serviced, or had any connection at all with any of these clipper planes. Please include photographs if you have them. The memoir need not be lengthy. Any of your thoughts will be appreciated.

PUBLIC EXHIBIT
---
As always, we are on the lookout for all memorabilia from the Pan Am Clippers – the M130's and especially the Boeing B-314's—for the creation of a public exhibit.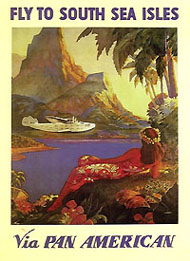 This would include Time Tables, Tickets and Ticket Envelopes, Baggage Labels, Pan American Flying Money, Children's Toys and Books, Travel Brochures, Posters, Stock Certificates, and Annual Reports.

THE SEARCH IS ON!
---
San Francisco, CA November 5, 2005 - Underwater Admiralty Services, Inc. (UAS), announced this past weekend that they have undertaken a mission to locate and video survey one of the



former Pan American Airways flying boats.

The announcement was made at the China Clipper Celebration commemorating the 70th anniversary of the inauguration of Pan American Airway's trans-Pacific service. The event was held at the San Francisco Airport Commission Aviation Library and Louis A. Turpen Aviation Museum this past weekend.

In its announcement, UAS revealed that it has begun a search for one the most famous of Pan Am's flying boats - the Boeing 314. During the B-314's years of service, two of the twelve produced were forced to land mid-ocean short of their destinations. Their crew and passengers were successfully rescued, but the airplanes were deemed hazards to navigation and purposely sunk.

One of these aircraft, the Honolulu Clipper, was the first 314 made by Boeing and flew scheduled passenger service from San Francisco to destinations in the Pacific prior to World War II. It then provided military transport during the war. In April of 1946, Pan Am discontinued service with the flying boats as newer, faster, higher-flying landplanes made them obsolete. Some 314s went on to short careers with other airlines, many of them languished in storage, but eventually all of the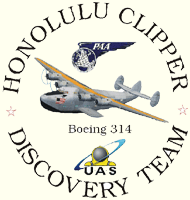 remaining B-314s were scrapped.
Noting that sad fact, Capt. Jeff Johnston, airline pilot and consultant to UAS, said during the announcement, "Our goal is to locate one of these historic aircraft, evaluate its condition, and, if merited, recover the aircraft for restoration and display so future generations can view and admire a true aircraft legend."
Many of those in attendance agreed that it was a shame that no one thought to preserve any of the twelve planes produced and welcomed the announcement.
President of UAS, Mark Allen, explained, "Technology improvements over the past decade have opened up the world of deep water operations so that what was considered impossible five or ten years ago is now quite possible."
UAS is a Seattle-based non-profit organization whose mission is to promote the exploration, identification, documentation and recovery of submerged cultural resources.
For more information, contact
Mark Allen at 253-848-4046
, email
Mark
or go to their
website
. You may also contact Jeff Johnston at 253-848-4046, or email him at
jeffjohnston@qwest.net
.

CONTACT INFORMATION
---
As always we appreciate your input and thank you for keeping an eye out for all clipper related material both new and old. Please contact us at:

McKinney@flyingclippers.com.

Keep 'em Flying!