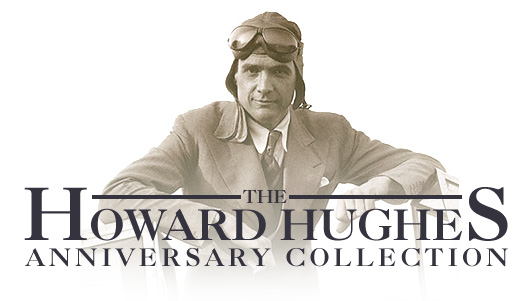 Howard Robard Hughes, born September 24, 1905 in Houston, Texas As a teenager, he declared that his goals in life were to become the world's best golfer, the world's best pilot, and the world's best movie producer. He studied at the prestigious Rice University and the prestigious California Institute of Technology, inheriting his father's machine tool company in 1923.

He was at times a pilot, a movie producer, a playboy, an eccentric, a recluse, and one of the wealthiest people in the world. In aviation, one of his greatest endeavors was the Hercules (HK-1) or Spruce Goose, a massive flying boat completed just after the end of World War II which only flew once (with Hughes at the controls) in 1947. Because the U.S. Government denied him the use of metal, Hughes built the entire plane from wood to fulfill his contract. The plane was the showpiece of a museum in Long Beach, California for many years before being moved to McMinnville, Oregon.

On January 19, 1937 Hughes set a new air record by flying from Los Angeles to New York City in 7 hours, 28 minutes and 25 seconds. Then on July 10, 1938 he set another new record by completing a 91 hour airplane flight around the world. He died April 5, 1976 leaving an estate worth in excess of one billion dollars.




The wooden models are authentic replicas made from the very finest grade of select kiln-dried Philippine mahogany wood. The models are made entirely by hand, from the hand carving of the fuselage, wings and tail section—to the sanding of the aircraft's contours.
Hughes HK-1
Spruce Goose
Scale 1:200

Hughes H-1 Racer
Scale 1:20

Lockheed L-1049SG Super Constellation
TWA
Scale 1:100

Sikorsky S-43
Scale 1:72